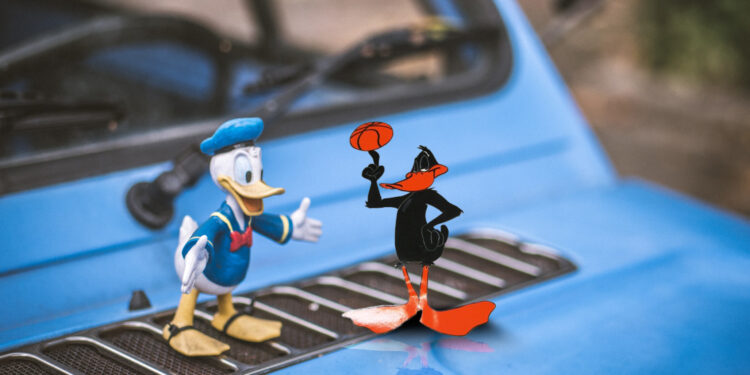 Donald Duck is enormously popular worldwide but perhaps nowhere more so than in the Nordic European countries where the magazine Donald Duck & Co. was the most popular comic from the 1950s to 2009. I don't think the Nordic countries get a lot wrong and I'm with them! It's Donald Duck for me.
Daffy Duck is a more realistic duck. He originally appeared, looking a lot like an ordinary black duck in Porky's Duck Hunt (1937). However, he certainly didn't act like an ordinary duck! Daffy's wisecracking and antagonistic antics were unheard of at the time and cinema-goers were enthralled. Since then Daffy has gone from strength to strength as a comedic character. I choose Daffy because while Donald's loveable, Daffy's got the comedy chops!
Both Donald and Daffy have their signature lisps. Although Daffy's was nowhere near as prominent in his earlier cartoons. Allegedly, it was voice artist Mel Blanc that suggested the lisp. He thought that having a large, rigid beak would make certain words difficult for Daffy to say, especially those beginning with 's'. Voice artist Clarence Nash originally developed what begame Donald's world-famous lisp as a voice for a nervous baby goat character. It was Walt Disney himself that thought the voice sounded a lot more like a duck and so it went on to be used for Donald. Both Donald and Daffy have middle names. Donald's is "Fauntleroy" and Daffy has several but the earliest, revealed in 1950, is "Dumas" named for the French author.