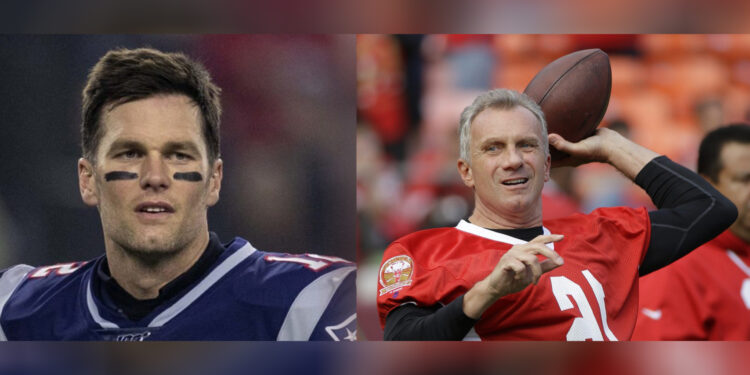 Bleacherreport.com rated Tom Brady and Joe Montana as the two greatest QBs of all time.
When talking about the best quarterback of all time, one of the first names that come to mind is Tom Brady. Brady, who started his NFL career in 2000, played 22 seasons for the NFL. He played his first 20 seasons with the New England Patriots and the final 2 with the Tampa Bay Buccaneers.
In his second season playing for the New England Patriots, Brady helped his team win the Super Bowl (Super Bowl XXXVI) for the first time. The New England Patriots would go on to win a total of 6 Super Bowl wins with the help of Tom Brady. When Brady joined the Buccaneers in 2000, he helped them win the Super Bowl LV. He holds the records for the Most Super Bowl wins (7), Most Super Bowl appearances (10), and Most Super Bowl MVPs (5) among numerous other NFL records.
Joe Montana, who is from a different time than Tom Brady, is also considered the greatest by many. He started his career in 1979 with the San Francisco 49ers, playing 14 seasons with them. In 1993, he joined the Kansas City Chiefs and played 2 seasons for them. With Montana in their arsenal, the San Francisco 49ers won the Super Bowl 4 times. He was also the first player to be named Super Bowl MVP 3 times. In 2000, Montana got inducted to the Pro Football Hall of Fame.